M/S Völkerfreundschaft Model Plans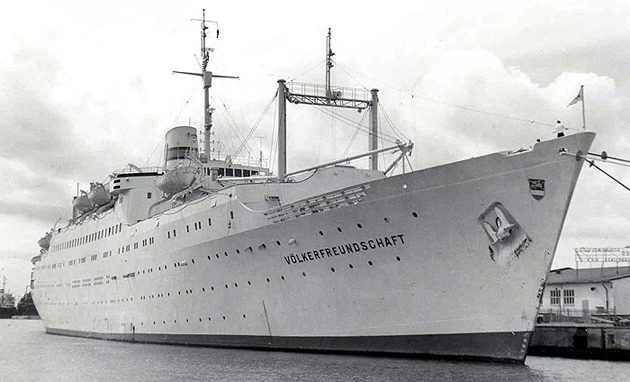 I am trying to give brief information about the ships that i am publishing scale model plans of. And Völkerfreundschaft has one of the most interesting stories of all. She was involved with one of the most tragic maritime disasters.
M/S Völkerfreundschaft was built in 1948 under the name "Stockholm" by Götaverken in Götenburg for Swedish American Line. In July 25th of 1956, during a foggy night, she collided with Itallian luxury liner S/S Andrea Doria. Stockholm rammed to Andrea Doria from her starboard at an angle of almost 90 degrees at abot the midship.  52 people died in the accient. 5 of them were M/S Stockholm's crew. Also some crew were trapped in the wrecked bow of the ship and some passenger of Andrea Doria in the wrecked cabins. Andrea Doria capsized and sank in the following morning. Some other ships arrived and joined the rescue with M/S Stockholm, still afloat. She then sailed to to NewYork under her own power.
And there was a miracle in the accident. After the collision the crew members of Stockholm went to the bow are of the ship to survey the damage. They found a 14 year old girl, Linda Morgen at the damaged area. She was crying in a language which they couldn't understand. Then they discovered that Linda was a passenger of Andrea Doria. She slept onboard Andrea Doria and woke up onboard Stockholm.
She was dubbed as the miracle girl on news. She was sleeping with her half sister when the ships collided. Unfortunately her half sister and her step father  are two of 52 people died in the accident.
After her bow was repaired, in 1960, East German Government bought the ship and renamed her "Völkerfreundschaft" which means "International Friendship". She served under this name until 1985. In 1985 she was transferred to a Panamanian company "Neptunas Rex Enterprises". Her name was reduced to Volker, and by the end of the year she was laid up in Southampton, England. She was later used as a barracks ship in Oslo for asylum seekers in Norway under the name Fridtjof Nansen.The Stockholm was sold to Italian interests in 1989 and towed to Genoa, the Andrea Doria's home port. When she first arrived, the press called the Stockholm the "ship of death" The ship's history continues with several more name and operator changes. In 2008 under the name "Athena" she was attacked by the pirates in Aden Bay but the pirates couldn't get onboard the ship. The crew defended their ship with high pressure fire hoses and also a patrol boat arrived soon after.
The plan is a single sheet plan of decks and hull lines with profile of the ship. I also included several deck plans of  accomodation which may help. There are also some photos of the ship which you may be interested in.