To see model ships built by the plans on this site always made me happy. This is a great motivation for us to continue our research to provide more plans and content. And today, Amit Bhattacharya gave great news. He won a prize with his model tugboat Klimek in 1/350 and bigger ship class in California. Several months ago, he shared the pictures with us and i am just transferring what he wrote to our facebook page at that time…
"took almost 2 years but finally finished my model of the 'klimek'. my first model after 30 years. a few 'technical' details that you all may like to know: 95% cardstock. some wood parts (the funnel and the ventilators), the mast is styrene tube and the usual wire, thread and clear styrene. all parts scratch-built except the chains and the surface of the bow and stern rope fenders. scale is 1/50 ish (plan says 1/50 but there is a hand written notation on the side that says 1/52.60!). downloaded the plan from freshipplans.com, printed on card, soaked in thin ca, then cut, sand, glue, and paint. the water base is various shades of blue and white paint covered by a layer of clear silicone shaped into waves. started the next project. the taurus tug, enlaged to 1/72 based on the pro-model paper kit. looking for build logs/threads for this kit but surprisingly haven't come across any yet. leads in this regard will be highly appreciated. goal for this model is a clean build and to keep improving my skills."
Then he shared the news with us today that he won the third place with Klimek Tugboat.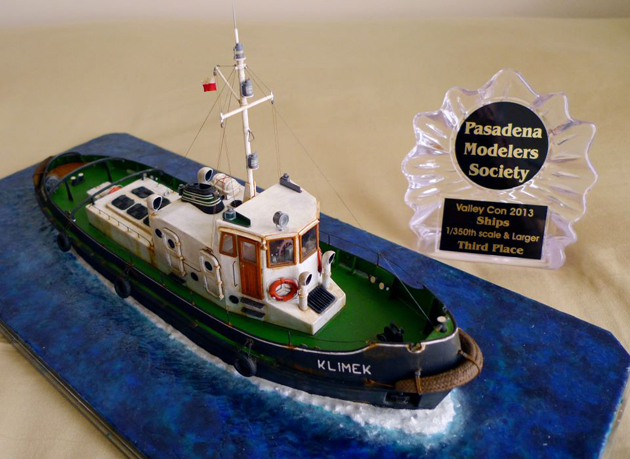 "Just thought i would share. won 3rd place in the 1/350 & bigger ship class in the recently concluded valley con 2013 in pasadena california with my model of the 'klimek'. first time i have won any prize, ever. first model in 30 years and first time i worked from a plan and first time i tried weathering. thank you posting this wonderful set of plans!"
I should thank Amit Bhattacharya again for sharing this great news with us. He made us very happy!
If you also have models built by these plans, please share with us.