Few weeks ago i received a fantastic e-mail from Matthias Kreimeyer. He designed few model ship plans and he is willing to share them with our members. He was kind enough to convert the files into PDF which is more common to use. We need people like him =)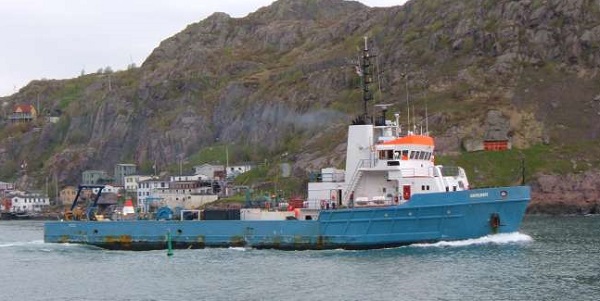 The MV Anticosti is a common representative of a larger workboat, in this case a supply vessel used for offshore work. The Anticosti, originally "Jean Tide", was built as an oil rig supply vessel and later converted by the Canadian Navy to serve as a minesweeper (HMCS Anticosti (MSA 110)). Her sister ship, "Joyce Tide", was converted to the minesweeper "HMCS Moresby" (MSA 112). With the introduction of the Kingston-class patrol vessels, both ships were retired from active service and later sold to be used again as supply vessels. The Anticosti still is in active service today.
The Anticosti displaces 2,200 tons (deep load) and is 58.3 m (191 ft) long, with a beam of 13.1 m (43 ft). Driven by four diesel engines, it employs a total power of 4,600 horsepower. In addition, it uses a GillJet thruster to aid maneuverability (also referred as azimuth bow thruster or pump jet). The ship was built by Allied Shipbuilders Ltd. in Vancouver, along with three other vessels of the same family of design, i.e. "Lady Lisbeth", "Lady Vivien", "Lady Alexandra", all of which still are used today as offshore supply ships.
The model is designed in 1:200 scale, the plans are based on a digital model reconstructed from photos of the original. A digital model and 3D parts are available through www.microboathobby.com