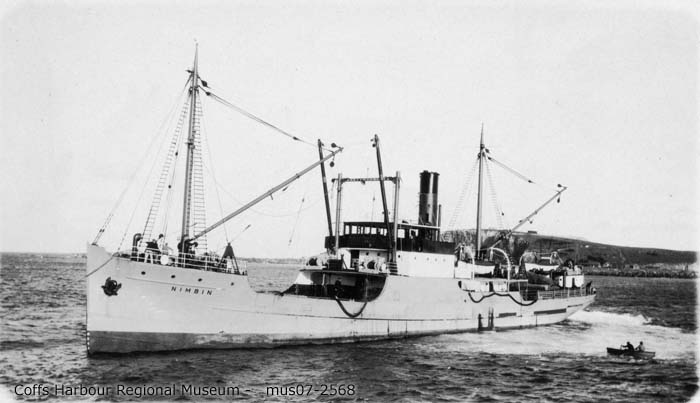 MV Nimbin is one of the few merchant vessels that we could gather some information about. It is an interesting fact that we can find the story of ships easier if they are involved with a war, a disaster, a tragedy. Maritime history is like childhood memories. Only traumas are remembered.
MV Nimbin was built in 1927 by Burmeister & Wain's Maskin & Skibsbyggeri (B&W) in Copenhagen Denmark. She was built for North Coast Steam Navigation Company  Australia and she was the first motor ship which was going to serve between Sydney and north rivers.
Nimbin was 65.53m long, 10.67m wide and 3.96m deep, 1052 GRT vessel. Her 60.900 cubic feet cargo holds were equipped for refrigerated cargo. In addition to her 4 cycle B&W diesel engine, there were two auxiliary engines for electric and refrigerating and her main engine could speed her up to 12.1 knots service speed. The crew cabins had their own bathrooms with cold and warm water, fresh or sea water depending on their choice.
Nimbin Left Copenhagen for her maiden voyage with a cargo of pine timber. Her maiden voyage was a real test for her. She was caught by several storms. Monsoonal winds made the waves cover her decks and she lost some of her over deck cargo but she arrived Sydney safely.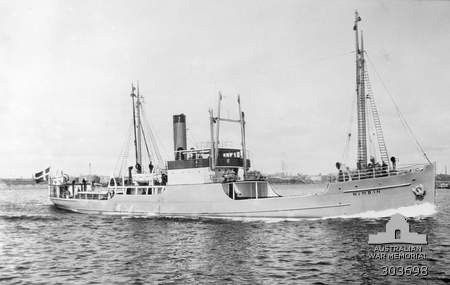 During her carreer she hed several incidents. / weeks after going into service, secon officer Frederick Hoskins fell into the hold. She was taken to hospital but unfortunately he passed away the next morning. In 1928, she touched the bottom and her steering gear and a plate at waterline were damaged. In 1932 she was grounded in a foggy day. In 1937, she collided with the tug Teven. Joseph Smith, the engine driver of the vessel was killed in the accident and Charles young was seriously injured. Nimbin also helped the vessels Ulmarra and Comora when they had mechanical failures.
On December 5th of 1940, Nimbin became the first Australlian registered merchant vessel to be lost in ww2 when she hit a mine layed by SMS Pinguin, a German auxiliary cruiser. She was on her way to Sydney coming from Coffs Harbor and was loaded with plywood and a large number of pigs. At 3.25pm, the ship hit the mine and mine exploded, blowing off one third of the ship. The crew found themselves in the sea. Luckily the plywood bundles acted as life rafts as there was no time to launch the actual life rafts. The ship sank in 3 minutes.
Unfortunately ships master William James Bysantson, wiper Ernest Walter Hallet, Donkeyman Ernest Wilfred Carlson, Greaser Nils Hulton, chief officer Charles George Chapman, 3rd engine officer, Archibald McAllister and able seaman William Gorry were killed in the accident. And the rest of the crew were injured.
I came across with Nimbin by my dear friend Laura Berivan Nilsson suggested me to take a look at Danish archives. I should thank her for letting us discover this set of plans and the story of the ship.
The ship's plans are on two tiff files. The quailty is very good. We have the hull lines plan, deck and profile plan which i believe will make us able to build a model.