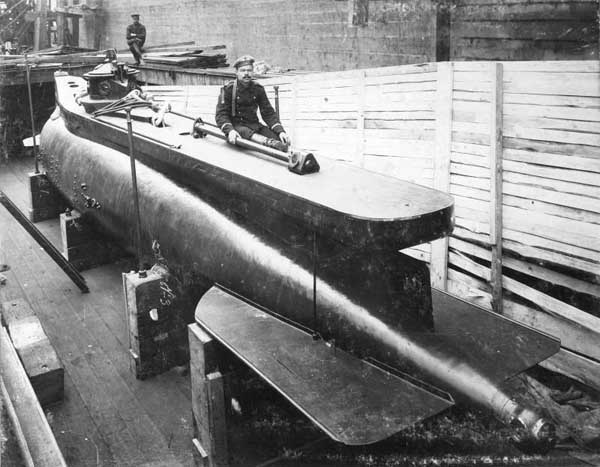 This unique submarine was actually built for German Navy in 1903. The designer was Ramiondo Lorenzo D'Equvilley-Montjustin. She was built by Krupp in Germany. The sub was operationally succesfull but did not take German navy's interest. Then Russian navy purchased the little submarine "Forel" which means "Trout" . She really looks like a little fish when compared to other subs. She was bought to be operated in Russo-Japanese war and served between 1904-1910. ( Remember Japanese midget submarines but they were active in WW2 )  Unfortunately she sank by an accident in 1910 .
She was 13.1m long and 2.1m wide. She only had one electric motor. So that means she had to be launched from a mother ship. Her range was 25nm and had two external torpedo tubes.
Parts:
1 – propeller, 2 – rudder, 3 – flagstaff, 4 – add-5 – periscope 6 – felling, 7 – emergency ballast, 8 – torpedo tubes, 9 – bow horizontal rudders, 10 – commercial eye(?), 11 – porthole 12 aft stabilizer, 13 – aft horizontal rudder, 14 – cover drive torpedo, 15 battery, 16-ballast tank, 17 – propeller motor.