The patrol ship Tuman was a fishing trawler in her early life and she was named RT-10 before the war. She was 55m long and 9.06m wide. Her 700 hp engine could speed her up to 9 knots. She was built in 1931 by Danzig Gdansk. Tuman means "Fog".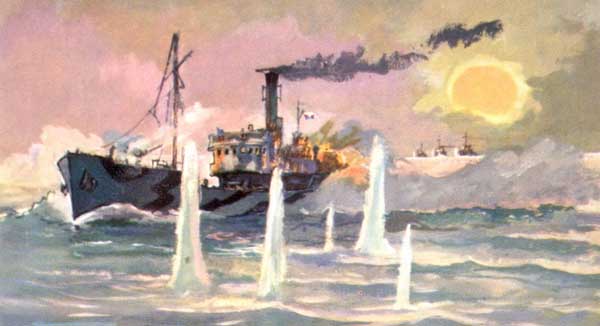 Then in 1941, her fishing equipment were taken out, 45mm guns were installed fore castle and aft superstructure. Two anti aircraft machine guns were installed to bridge wings. To the aft part, depth boms and smoke bombs were installed. She was based in Murmansk. She joined the operations against German attacks.
Then she was moved to patrol duty around island Kil'din – Navolok . In 10th of August, the crew of the ship saw a German patrol plane and soon they noticed 3 destroyers on the horizon. Then Tuman turned her heading to island Kil'din where Russian forces were located. When Tuman Manuevered, the destroyers also turned their heading towards the ship and they started chasing. Obviously a former fishing trawler did not have a chance to reach the shore before the modern German destroyers which were speeding around 36 knots. When the destroyers reached enough distance, they started fire. Tuman got 11 direct shots. The aft gun was damaged so the crew could not back fire properly.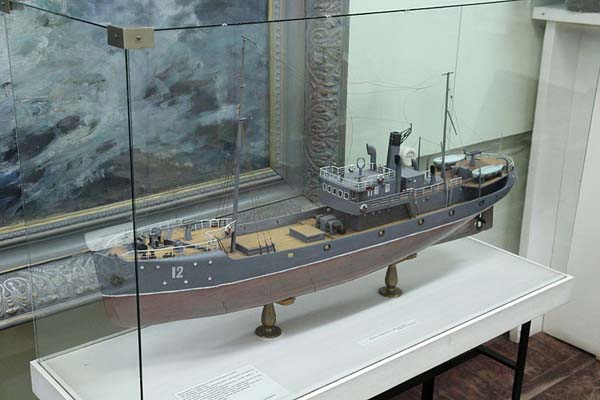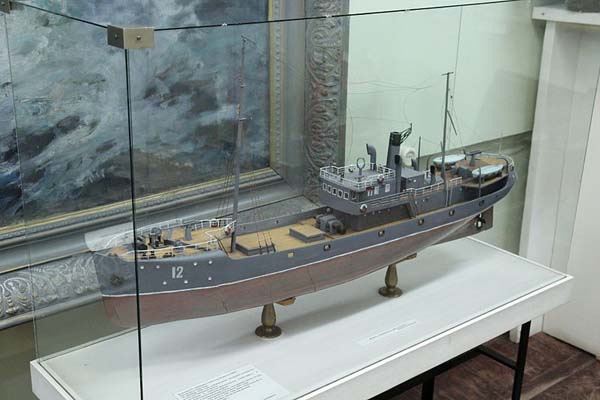 The German fire cut the flag from the mast but K.D. Semenov and V.K. Blinov raised it back despite his injuries. The crew was fighting with fire onboard and also water leaks while trying to reach Russian shores. When Tuman made it to coverage, the Russian forces drew back the destroyers. With the help of Russians' return fire and Tuman's smoke screen, 37 of 52 crew on board Tuman was saved. The ship unfortunately sank. From that day, Russian naval vessels dip their flags and blow a long horn while passing island Kildin.
The model plans of this ship is in two high resolution tiff files. The body profile plan, the lines plan and the deck plan is included.
The Parts on the plan:
1 – line of the upper deck, 2 – anchor Hall 3 – steam windlass, 4 – bollards, 5 – breakwater, 6 – 45 mm gun (side and rear), 7 – Iranians for projectiles, 8 – cargo hatches 9 – roller trawl, 10 – Deck roller 13 – derrick  14 – trawl steam hoist, 16 – coal throat; 17 – pilot house with rooms and chart room shack, 18 – engine room telegraph, 19 – antenna finder, 20 – anti-aircraft gun, 21 – steering wheel, 22 – Spotlight; 23 – antenna input, 24 – compass; 25 – box for signal flags; 26 – klinket to receive fresh water 27 – machine skylight; 28 – mushroom vents, 29 – blinds boiler department, 30 – ventilation funnels engine room 31 – rope damper; 32 – banquet and aft guns side view of the 33 – shelving with depth charges; 34 – nest with smoke bombs, 35 – taken from space trawl sulfur 36 – Cabin ejector deflectors; 37 – deck scuppers; 38 – the rudder with chain shturtrosom; 39 – fender, 40 – aft inscription; 41 – propeller; 42 – shtagovye screw turnbuckles; 43 – naval flag of the Soviet Union, 44 – pennant.